Chronicles of Vulcanica: Vale Tenebrous
Karok
Free Lands of Karok

---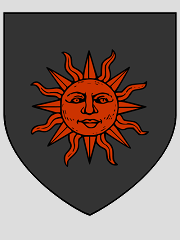 SIGIL

:
A red sun on a field of black.
---
REGIONS

:
The Badlands
CITIES

:
Karok
COINAGE

:
No coinage
---
GOVERNMENT

:
Totalitarian Fascism
LEADERSHIP

:
Gravehammer
ESTABLISHED

:
Declared independence from Ys in 463 3A, yet to be recognized by Ys.
---
ENEMIES

:
Norsca
(at war),
Nubia
,
Ys
(at war)
ALLIES

:
Haven
---
POPULATION

:
3 Million
STATE

LANGUAGE

:
Sedi
Until less than a hundred years ago, the Draconic word "Karok" meant nothing more than "wasteland." However, following the appearance of the Slade people and their appropriation of the name, it has begun to take on an air of defiance and rebellion that is all too familiar for the people of Vulcanica. As part of the island nation Ys, Karok legally belongs to the Dragons; however—having seen how the Ysir Dragonkin live—the Slade are not interested in living in the Dragons' shadow, and have chosen war over oppression. Located in the heart of the Badlands of Ys, Karok is short on natural resources and abundant in harsh terrain, brutal weather, and unpredictable seismic and volcanic activity. Fortunately, however, the Slade people do not need much to survive, and adapt easily to the Badland's harsh conditions. Having been only recently (and controversially) recognized as a sovereign nation, many Vulcanicans are watching Karok (and her leader, a mighty Slade warlord named Gravehammer) with eager and hopeful eyes.