Chronicles of Vulcanica: Vale Tenebrous
Pyre
Protectorate of Pyre

---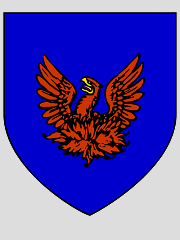 SIGIL

:
A red phoenix on a field of blue.
---
REGIONS

:
Raven's Rest
CITIES

:
Trieste
COINAGE

:
Flame
---
GOVERNMENT

:
Theocratic Despotism
LEADERSHIP

:
Heirarch Ladris
ESTABLISHED

:
12, 3A.
---
ENEMIES

:
Galessa
(at war),
The Ironforge
,
Norsca
(at war),
Winter
ALLIES

:
Karok
---
POPULATION

:
4 Million
STATE

LANGUAGE

:
Asur
Raven's Rest
As the Temple of Ash teaches, there was once a powerful woman who walked the earth, bringing food to the hungry, protection to the weak, and fire to the cold. They call this woman "Lady Phoenix," and revere her as their goddess. Historians agree that Lady Phoenix did likely exist, and though they suspect she was not as powerful and caring as the stories suggest, the people of Pyre still look to her as their savior and the source of their convictions. Pyre is led by the Temple of Ash's highest-ranking priestess, Hierarch Ladris, who—though her heart is usually in the right place—has a history of making decisions that are frequently very unpopular among Pyre's neighbors. Seen as overbearing and self-righteous, many of Vulcanica's rulers aren't exactly looking forward to sending them aid when the Archmage begins to advance into their land.
Trieste