Chronicles of Vulcanica: Vale Tenebrous
Winter
Winter Court

---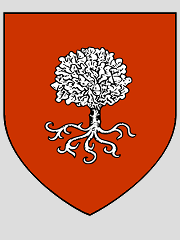 SIGIL

:
A white tree with exposed roots on a field of red.
---
REGIONS

:
Dawn's Pass
CITIES

:
New Turath
COINAGE

:
Ano
---
GOVERNMENT

:
Democratic Geniocracy
LEADERSHIP

:
Albrih Titania
ESTABLISHED

:
188 3A.
---
ENEMIES

:
Norsca
(at war),
Pyre
,
The Southlands
ALLIES

:
Cinderfell
,
Galessa
,
Haven
,
Thrane
---
POPULATION

:
6 Million
STATE

LANGUAGE

:
Elos
Dawn's Pass
History remembers New Turath and the land around it as a haven to the Cambion people. However, following the holocaust of the Spell Plague, many of the surviving Cambions had no interest in returning to their "ancestral" home, and left the city largely abandoned. Eager to help as much as they could in the wake of such a calamity, the Aos Sí Fey stepped in to fill the void and assumed leadership of the city. When Cinderfell began to face collapse, New Turath was one of the first granted sovereignty by the Emperor, a decision that was largely attributed to the city-state's high level of self-reliance. The nation named itself the Winter Court—in honor of the great number of tragedies the city has suffered—and went on to become one of the strongest nations in Vulcanica. Today, however, Winter faces much criticism as a nation, and many are beginning to lose faith in Albrih Titania's continued ability to hold Dawn's Pass from Norsca.
New Turath